Every month, for the past two years, TVAMP sends a volunteer duo out to serve our community…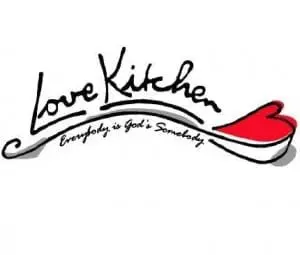 There are two local places we absolutely love serving. One month we serve at the Love Kitchen, and the next month, we assist Angelic Ministries.
Cindy, our Client Care Coordinator, determines shifts and makes sure we always have team members signed up to serve. "We've been doing this for about two years now," she mentions. "We enjoy taking this time off to serve the community hands-on. We think these two organizations are doing a wonderful things."
The Love Kitchen provides meals, clothing and emergency food packages to elderly, home bound, homeless, disabled, or unemployed people of all races and faiths.
Their all-volunteer team serves more than 3,000 meals a week and delivers more than 80% of those meals. Our volunteer work includes packaging meals, serving meals, and cleaning up.
Angelic Ministries operates a "store" where families referred by churches or agencies can "shop" for donated toiletries, cleaning supplies, clothes, household items and furniture.
The 65,000-square-foot building also houses two other programs: a church service for Knoxville's homeless population, and a year-long "life-retraining" program through the national Christian Men's Job Corps for men who are starting over — from homelessness, abusive situations or other challenges. We have helped organize their donated items so they can be easily perused.
We asked a few of our team members to describe their experience at these places. Here's what they had to say.
Carol Glasgow, Executive Office Administrator: 
The Love Kitchen made me aware of the tremendous amount of work to feed so many….and the tremendous number of volunteers needed to meet that need.   Incredible effort by so many – grocery stores and restaurants who give food; chefs who volunteer their abilities; people who give their time and energy to drive, clean, serve, prepare, etc. etc. AND, the organizational skills of the leaders of that ministry to make it all happen.  Really good people doing lots of good work!
Angelic Ministries made me aware of the various needs of so many – furniture, clothes, toys, money, supplies.  Things we take for granted are a source of anxiety for many.  It made me feel extremely blessed for all that I have.  And, once again, I was moved by the tremendous effort of so many helping to fulfill the needs of others – expecting nothing in return!
Jeff Sweat, CFP®: 
When Burt and I volunteered at the Love Kitchen they asked us to deliver six meals each. This experience was very humbling. The people I delivered the food to were very appreciative and were very obviously in need.  I was able to pray with every family (most were single people) and they really appreciated that.  One lady had a walker, several health issues, and a very low monthly income – but she was still so joyful and hopeful.  She invited me in, we prayed for her and her son (who was about 6 months sober at that time). 
Brenda Shepherd, Executive Office Administrator:
Doing any type of volunteer work puts life into perspective. It really makes me realize just how blessed we are. On my bad days, if I would just think of all of those less fortunate, then my problems would not seem so bad.
Rob Eddins, CFP®: 
I volunteered with Michael Conaty at the Love Kitchen this year. 
Serving there makes me thankful for what I have, and lucky that life hasn't knocked me in the ditch.  We are all one tragedy away from struggling mentally, financially, etc.   
Scott Fisher, CFP®:
Angelic Ministries was not anything glorious… In fact, it was the exact opposite of glorious. Sorting and hanging up used clothes in a hot warehouse doesn't necessarily seem like a divine task. But as I thought about it, maybe that's the point. If "we" don't do these things, who will? There is something divine about helping those less fortune and expecting nothing in return.
It does put things into perspective. I pray for the unsung heroes in our town and around the world who get up everyday and make these kind of things happen (and that I usually take it for granted or don't even know it is happening). Who knows, maybe that is what Jesus would do…
Lisa Wyrick, Executive Office Administrator: 
I've volunteered at both places and what a wonderful feeling knowing your doing something that can make a difference in someone's life. It helped me appreciate all that God has blessed me with. 
I'm thankful to work for a company that loves to give back!
Burt Peake, Jr.: 
Working at both of those charities put me where the rubber meets the road: working face to face with less fortunate members of our community who are truly in need of the most basic of necessities. These places doing so much to help are usually"out of sight, out of mind…" unless you go looking for it. The Love Kitchen insures that its food recipients will have at least one square meal per day, something most of us take for granted. Angelic Ministries provides clothing and basic housekeeping essentials to families who cannot afford them. The work with these charities is very fulfilling on a human level, and opportunities abound to share the message of Christ with others.
Cindy Card, Client Care Coordinator: 
I agree with Scott. The time I volunteered at Angelic Ministries, Brenda's and my job was not glamorous. In fact, my shoulders hurt the next day from all the hanging up of garments we did! But, what a blessing to be ABLE to volunteer and serve others in Jesus' name.  I've also worked at Love Kitchen several times. Brenda and I did everything from break down boxes, stack big boxes of meals in the walk-in freezer (a nice cool job), clean up after meals, serve meals, and once deliver meals like Sweat mentioned he did. That was an eye-opener as we met people with so many, many needs who were thankful to receive their week's worth of meals. Working in either place helps put things in perspective. I am so blessed.
We highly recommend making time to volunteer in your community.
You can reach us at
(865) 226-9982

or

[email protected]